Warner kicks up high def with The Best Of sets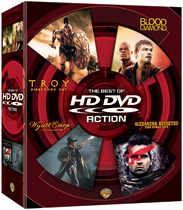 Warner Home Video is giving high definition a shot in the arm by releasing a number of pre-packaged "Best Of" collections on HD-DVD and Blu-Ray this November.
For the HD-DVD format there will be The Best Of HD-DVD: Action a set that contains "Alexander Revisited, " "Blood Diamond, " "Troy: Director's Cut" and "Wyatt Earp." The Studio will also release The Best Of HD-DVD: Family on HD-DVD, featuring the movies "The Ant Bully," "Happy Feet," "Scooby-Doo" and "Tim Burton's Corpse Bride."
Identically, there will be Blu-Ray versions of these sets, entitled The Best Of Blu-Ray: Action and The Best Of Blu-Ray: Family featuring the same movies as above.
These high definition sets will be available on November 6 for $84.99 which is an attractive price point as it is noticeably cheaper than buying each film individually.