Transformers – more than meets the eye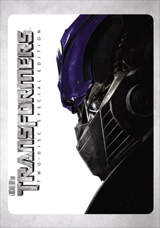 Comparably quickly after its summer theater run, Michael Bay's Transformers is coming to DVD and HD-DVD in October already.
The first live-action film based on the enduringly popular "robots in disguise", "Transformers" features the ultimate battle between good and evil, as the peace-loving Autobots seek to protect humanity from the evil forces of the Decepticons. The action-packed film stars a hot young cast of up-and-coming actors including Shia LaBeouf, Josh Duhamel, Tyrese Gibson and Megan Fox, as well as seasoned performers such as Jon Voight and John Turturro. But the biggest stars are the Transformers robots themselves – including fan favorites Optimus Prime, Megatron, Bumblebee, Ratchet, Jazz and more – brought to life by revolutionary new VFX techniques developed by the innovative digital wizards at Industrial Light & Magic (ILM).
The 2-disc DVD will offer the movie itself, complete with an arsenal of bonus material, such as a Commentary Track by Michael Bay and two Multi-part Documentaries exploring the human elements of the film as well as the phenomenal robot stars. Presented in multiple parts, "Our World" and "Their War" include segments with Steven Spielberg discussing his love for the franchise and the early concept for the movie, the extensive casting process, the training, consultants and real-world weapons provided by the military to lend authenticity to the film, the evolution of the robots from Hasbro's iconic toy line to big-screen stars, the unique vehicles created for the movie, a discussion with ILM's legendary digital artists and much more. Also included are early Sketch Concepts of the robots and an in-depth look at the making of the Skorponok attack from writing and conceptualization through the creation of the stunning visual effects.
In addition to a 1080p transfer and all of the DVD's bonus materials in high definition, the HD-DVD version also includes a number of Web-enabled Features which will be expanded over time. Initial features include a Transformers Intelligence Mode in which an on-screen dashboard over the film provides information about the robots and weapons, their strength levels, character updates and more. Plus, a GPS Locator that can access a map and GPS coordinates. To increase the excitement, additional HD-DVD exclusive features will be revealed at street date and over the next few weeks.
The HD-DVD version also includes a Transformers H.U.D. (Heads Up Display) that lets viewers access running text commentary while watching the film and even view relevant behind-the-scenes footage in a picture-in-picture window. Additionally, viewers can explore the main robots' individual details in high definition with the Transformers Tech Inspector.
"Transformers" will be on store shelves on October 16.