Titanic takes to the sea again this winter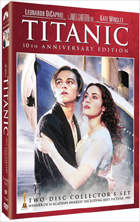 Another fan-favorite is coming back to DVD in December – James Cameron's Titanic.
Leonardo DiCaprio and Kate Winslet light up the screen as Jack and Rose, the young lovers who find one another on the maiden voyage of the "unsinkable" R.M.S. Titanic. But when the doomed luxury liner collides with an iceberg in the frigid North Atlantic, their passionate love affair becomes a thrilling race for survival.
It was one of the most remarkable films of its time and it is finally coming back to DVD as a 2-Disc 10th Anniversary Edition. Sadly Paramount Home Entertainment has not yet unveiled exact details about this release that will come to stores on November 20, also but we will keep you posted.