The Sopranos concludes in October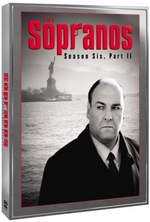 The final 9 episodes of The Sopranos are making it to home video in October from HBO Home Entertainment
In The Sopranos: Season 6, Part II, the show comes to its conclusion with Tony Soprano facing new stresses, including life-altering decisions at home, pressure from the law, and doubts about allegiances on the job that leave not even his oldest and most trusted crew members above suspicion.
The TV show will be released on DVD, HD-DVD and Blu-Ray Disc and will also contain a number of bonus materials, such as Commentary Tracks on selected episodes. Also included is Making Cleaver, an exclusive sneak-peek at the behind-the-scenes making of the film that Christopher pitched in Hollywood. Music of The Sopranos is a retrospective look at the final season and the music that helped shape it.
"The Sopranos: Season 6, Part II " will be in stores on October 23 and will cost you $99.98 on DVD, and 129.95 in high definition.