Shrek the Third on DVD and HD DVD this Thanksgiving!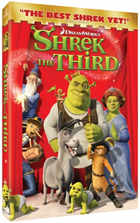 Dream Works Animation and Paramount Home Entertainment are bring Shrek the Third to DVD and HD DVD just in time for Thanksgiving. This is the third CG feature in the animated-ogre's tale and it features the voice work of Michael Myers, Cameron Diaz, Antonio Banderas, and other notable A-listers.
Shrek has conquered the box office, his relationship anxiety, and his foes, but can he handle fatherhood? After finding out Fiona is pregnant, Shrek has to confront his worst fears and decide what kind of father he wants to be. As he makes a journey to find the rightful heir to the throne, he bonds with a young boy named Arthur that helps him to learn a thing or two about parenthood. But it's not a walk in the park, the evil Prince Charming has rallied the villains of the land to overthrow the kingdom and destroy everything Shrek holds dear!
The DVD and HD DVD will be packed to the brim with material. Both versions will include Shrek's Guide to Parenthood (parenting tips from Donkey, Puss in Boots, Pinocchio, and Gingy), the Meet the Cast & Behind the Scenes featurette, Lost Scenes, a featurette on the Tech of Shrek, a hilarious Donkey Video, a series of Big Green Goofs, and a Dreamworks Animation Video Jukebox. Both versions will also include features specifically designed for your kids like Learn to Donkey Dance (in which Donkey teaches some moves), How to Be Green (Shrek and Donkey give tips on how to be environmentally friendly), and Merlin's Magic Crystal Ball (that allows Merlin to answer your child's questions).
But that's not all. The DVD and HD DVD also feature a collection of exclusive features in each format. The DVD also includes a Worcestershire Academy Yearbook (an interactive look at Arthur's classmates) and a host of DVD-ROM features (scene mash ups, games, printables, weblinks, and more). The HD DVD features an exclusive feature length PiP storyboard reel called Animator's Corner, a variety of Menu Customizations, and Downloadable Content that will initially have a trivia track, cast bios, and a coloring book.
Both versions are hitting shelves on November 13 – the DVD will be available for $29.99 in widescreen and full screen editions and the HD DVD will be released for $39.99.