Severin Films releases rare Lucio Fulci gems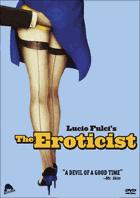 Best known for his horror films, of course, Lucio Fulci also treaded lighter terrain during the 70s, and independent studio Severin Films is bringing two of these films to DVD in October – The Eroticist and The Psychic.
"The Eroticist" is an erotic comedy about a Senator has an uncontrollable urge to grab women's bottoms, a habit than can lead to embarrassment, especially if the woman in question is head of another state and the occasion a state visit.
"The Psychic" on the other hands is a supernatural thriller about a clairvoyant woman smashing open a section of wall in her husband's home only to find a skeleton behind it. Along with her psychiatrist, she seeks to find the truth about who the person was and who put her there.
Both films will be presented in their original European Cuts in anamorphic widescreen with their original Italian language track, and will be supplemented by brand new Featurettes.
"The Eroticist" and "The Psychic" will be released on October 30 and will carry a $29.99 suggested retail price.