Recalled DVD Not Up to Snuff…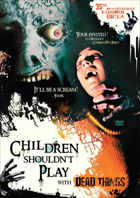 VCI Entertainment has issued an immediate recall of the Children Shouldn't Play With Dead Things: 35th Anniversary Exhumed Edition, released to DVD on September 18. According to the company's president, an incorrect master was used in the production process and the final DVD is missing several minutes of footage and has unfinished video corrections.
If you picked up one of these maligned discs, e-mail vic (AT) vcient.com, call 1-800-331-4077, or fax a request to 918-254-6117. You can also check http://www.vcient.com to receive additional help.