More details on eight Harry Potter versions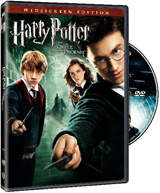 The Order of the Phoenix special features are a bit complex with a total of eight different releases. Here's the new details.
In "Harry Potter and the Order of the Phoenix, " Harry returns for his fifth year of study at Hogwarts only to discover that much of the wizarding community has been led to believe that the story of the teenager's recent encounter with the evil Lord Voldemort is a lie, putting Harry's integrity in question. Worse, the Minister for Magic, Cornelius Fudge, has appointed a new Defense Against the Dark Arts teacher, the duplicitous Professor Dolores Umbridge. But Professor Umbridge's "Ministry-approved" course of defensive magic leaves the young wizards woefully unprepared to defend themselves against the Dark Forces threatening them, so at the prompting of his friends Hermione and Ron, Harry is convinced to take matters into his own hands. Meeting secretly with a small group of students who name themselves "Dumbledore's Army," Harry teaches them how to defend themselves against the Dark Arts, preparing the courageous young wizards for the extraordinary battle that lies ahead.
In total there are eight releases for the film. Each with different features. Two single disc versions come with the movie only in fullscreen or widescreen. A widescreen 2-disc version will also be available with additional scenes, the featurettes Trailing Tonks and Harry Potter: The Magic of Editing, the documentary A&E Documentary: The Hidden Secrets of Harry Potter and DVD-ROM content.. The Blu-ray release will contain all but the DVD-ROM content as well as several focus point featurettes. The HD-DVD/DVD combo version will contain the DVD features as well as web enabled features and In Movie Experience but will not contain the A&E special.
Finally, the five movie box set will contain each of the five existing films in DVD, HD-DVD or Blu-Ray varieties. The DVD set will contain all of the existing 2-disc sets while the Blu-Ray and HD-DVD sets will contain the Phoenix discs along with newly mastered high def versions of the previous four films. Each will include two bonus discs, the first with bonue materials and three hours of content from the past Harry Potter films. The second is a series of games. The box also comes with trading cards and bookmarks.
The single disc DVDs will be $28.98 each. The 2-disc DVD is $34.99. The HD-DVD/DVD combo and Blu-Ray versions are $35.99. The DVD box set is $119.97 and the high def boxes are $149.99 for the complete sets (complete being relative since there are still two more films in the works). All will arrive on December 11th. Good luck finding the version that's right for you.