Lost: Season 3 can be yours for the Holidays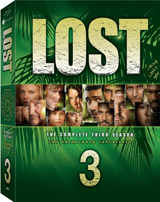 Buena Vista Home Entertainment has just announced details about the December release of Lost: The Complete Third Season.
Called "Lost: The Complete Third Season: The Unexplored Experience, " during this season the power of the island to both heal and destroy comes into sharp focus, when the lines between good and evil are blurred and loyalties are challenged as the survivors of the crash become tangled within the lives of the Others.
Coming as a 7-disc DVD set that features all 23 one-hour episodes, the release also contains a wealth of in-depth bonus materials, such as the Featurette "The World Of The Others," giving away some of the secrets and mysteries of the Others, revealed by the cast and producers. Also included is "Lost Flashbacks", a never-before-seen glimpses into the past lives of the castaways, and "Lost in One Day", an exclusive behind-the scene look at 24 hours in the life of this series. Further, look for "Lost on Location", a behind-the-scenes look at 10 episodes, and "The Lost Book Club" giving you hints to the significance of the show's literary references. The release will be rounded out by Deleted Scenes, Bloopers and Audio Commentaries.
"Lost: The Complete Third Season: The Unexplored Experience" is scheduled for release on December 11 with a $59.99 price tag. A Blu-Ray Disc version will also be available on the same day for $96.99.