Let the Dirt-slinging begin in December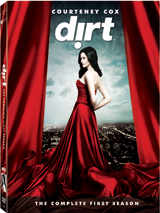 Buena Vista Home Entertainment has scheduled Courteney Cox's latest TV series, Dirt, for release in December.
Enter the secret and salacious world of show business through the back door. Lucy Spiller (Courteney Cox) makes the headlines as the woman Hollywood loves to hate in the darkly comedic drama Dirt. As editor-in-chief of Tinseltown's most influential magazines, Spiller can make or break the stars. Her obsession with the seamy side of the entertainment industry gives her power over every celebrity in the biz, but leaves her helpless against her own demons.
Coming as a 4-Disc Box Set the release will feature all 13 episodes from the show's the entire first season in anamorphic widescreen with 5.1 channel Dolby Digital audio. In addition, the DVD set will also include a number of bonus features, such as Deleted Scenes and a few Featurettes. In Celebrity Couple Gets Dirty, Courtney Cox, David Arquette and the cast and crew of "Dirt" discuss the evolution of the show and how FX took a chance on the show after 2 years of development. Through A Lens, Darkly is a profile on "Dirt's" resident photographer/schizophrenic and how his struggle with reality is a metaphor for the larger issues the show addresses regarding culture and celebrity.
The featurette Tabloid Wars: Totally True Stories from the Celebrity Trenches contains interviews with the cast and crew of "Dirt" and allows leading real-life tabloid gurus to explore what happens when an appetite for celebrity gossip becomes stalkerazzi overkill. They'll also discuss where "Dirt" gets it right and where they take creative license.
The "Dirt" slinging will begin on December 11 when Buena Vista Home Entertainment will put this DVD set in retail shelves for $59.99.