Everybody was kung-fu fighting! Rush Hour 3 on DVD and Hi-Def!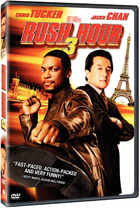 New Line Home Entertainment has announced that it will release director Brett Ratner's latest action-comedy Rush Hour 3 to DVD and Blu-Ray Disc in time for you to spend you Christmas cash.
"Rush Hour 3" is the third installment of the popular buddy-cop series starring martial arts master Jackie Chan and high-pitched funnyman Chris Tucker. This time around, the two reunite to save an old friend from a group of dangerous thugs with surprising ties to Chan's detective.
The film will be available as a single-disc DVD version, as a 2-disc DVD Platinum Edition, and in high definition as a BD-Java enhanced 2-disc Platinum Edition Blu-ray release. Following New Line's standard formula, an 1080p HD-DVD version will follow in 2008 and include an exclusive online experience and upgraded audio.
The DVD and Blu-ray versions are set to hit stores on December 26. The standard DVD versions will cost $29.98 and $34.98 and the Blu-ray edition is set at $39.98. A list of bonus materials is soon to follow.