Another Princess Bride DVD? As you wish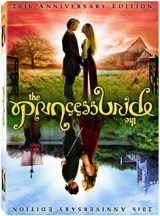 If the previous four DVD releases of The Princess Bride didn't quite do it for you, MGM Home Entertainment has a new 20th Anniversary Edition coming out this winter.
A fantastical escape into a world of swashbuckling swordsmen and gallant heroes, The Princess Bride is extraordinary entertainment for the whole family. Filled with adventure and romanticism, this hilarious film from producer/director Rob Reiner is filled with appearances by a star-studded cast.
When Westley (Cary Elwes) leaves to seek his fortune, his true love, Buttercup (Robin Wright), is captured by an evil prince. Will Westley return in time to save her? Can he battle the wizards, warriors and pirates set in his way?
The new DVD will feature entirely new features including a DVD Game and the Featurettes Princess Bride: The Untold Tales, The Art of Fencing and Fairytales and Folklore.
The DVD arrives on November 13th for $19.98.