A first close-up look at the Harry Potter Limited Edition Gift Set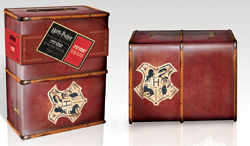 Excited to find out what the upcoming "Harry Potter" limited edition gift sets will look like? We reported earlier about the various versions of "Harry Potter: The Order Of The Phoenix coming to home video in December, including these elaborate limited edition gift sets.
Here now is the answer what these mythical gift sets are destined to look like. We have been able to obtain images of these supercharged Harry Potter 1 – 5 Limited Edition Gift Sets and here, for your enjoyment, is a close look at the packaging and contents of the release.
Make sure to click on the image above to see a package shot that unveils all the contents of this remarkable gift set!
As you can tell, these are not your off-the-mill special editions, but very carefully put together packages, filled to the rim with materials, treats and collectible items. Certainly for fans of the series, this will be a valuable Christmas gift, so make sure to bookmark your copy early before they're all sold out.