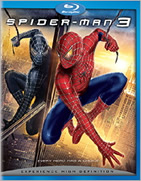 Lots of cool Spidey news today with the announcement of some good Spider-Man releases. The first two Spider-Man films came with so many releases, it was a little hard to keep track of. Spider-Man 3 arrives from Sony Pictures Home Entertainment with just a few releases that should satisfy just about everyone.
Peter Parker has finally managed to strike a balance between his devotion to M.J. and his duties as a superhero. But there is a storm brewing on the horizon. When his Spider-Man suit suddenly changes, turning jet-black and enhancing his powers, it transforms Peter as well. Under the influence of the suit, Peter becomes prideful and overconfident and he begins to neglect the ones he cares about the most. As two of the most-feared villains yet, Sandman and Venom, gather unparalleled power and a thirst for retribution, Peter's greatest battle is the one within himself. Spider-Man will need to rediscover the compassion that makes him who he is: a hero.
There are a few releases coming up. A single disc DVD will be available that will still contain some nice features including bloopers, audio commentaries, photo galleries, a music video and previews.
A two disc version of the DVD will also contain several featurettes including Grains of Sand – Building Sandman, Re-Imagining the Goblin, Covered in Black – Creating Venom, Hanging On…Gwen Stacy and the Collapsing Floor, Fighting, Flying & Driving – The Stunts , Tangled Web: The Love Triangles of Spider-Man 3, Wall Of Water, On Location Cleveland – The Chase on Euclid Avenue, On Location New York –From Rooftops to Backstreets, The Science of Sound and Inside The Editing Room as well as tv spots from around the world. A Blu-ray version will also be available with the same features.
And of course the box sets. A new DVD box set will contain all three Spider-Man films (movie only) and more excitingly a new Blu-ray box will contain Spider-Man, Spider-Man 2 Spider-Man 2.1 and Spider-Man 3, plus the bonus features for Spider-Man 3 making the high-def debut for all titles.
And of course. a PSP version will be available too.
Ready for the prices? On October 30th, the single disc DVD will be priced at $28.97. The UMD is priced the same. The 2-disc version comes in at $36.96, the DVD three pack will be $38.96.The Blu-Ray two disc set will be priced at $49.95 and the high def trilogy will be priced at $98.95.