Evan Almighty takes to the DVD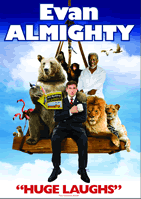 Evan Almighty – the semi-sequel to Bruce Almighty will be bringing its story of Biblical proportions to DVD this fall thanks to Universal Studios Home Entertainment.
Junior congressman Evan Baxter, whose wish is to "change the world, " is heard by none other than God. When God appears with the perplexing request to build an ark, Evan is sure he is losing it, along with his family, friends, neighbors, colleagues and the news media. But soon mysterious deliveries of wood and tools are being dropped on his doorstep, animals of every shape and size are flocking to him two by two, and Evan's predicament starts to mount, as well as the laughs.
The DVD actually comes pretty full of extras including deleted scenes and several featurettes including The Building of Noah's Ark, Steve Carell Unscripted, Becoming Noah, Training the Animals, Environment-Friendly Set and Designing the Visual Effects along with a game.
The DVD hits dry land on October 9th with a suggested retail price of $29.98.