Clive Cussler's The Sea Hunters dive in October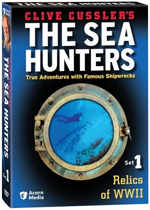 Acorn Media just announced a DVD version of Clive Cussler's The Sea Hunters Set 1 as a 3-disc DVD box set, scheduled for release in October.
The DVD set features eight daring, real-life adventures into the depths of World War II as viewers join bestselling action-adventure author Clive Cussler, renowned maritime archaeologist James Delgado, and their crack team of divers to explore some of the most significant shipwrecks of World War II. Visit the remnants of an aircraft carrier made entirely of ice, probe the world's deadliest maritime disaster, survey the relics of D-Day, and more.
Rather than looking for treasure, the Sea Hunters seek only to complete the historical record. Besides delving deep into each site's history, you'll sit in on prep sessions as the team struggles with the technical challenges of their dives. Then you'll see exactly what they see, thanks to dramatic underwater camerawork. And in each episode, you'll hear exclusive interviews with survivors, witnesses, and other experts, bringing a human dimension to historical events.
The DVD set will also include Bonus Footage for each episode as well as a Clive Cussler Biography.
"Clive Cussler's The Sea Hunters Set 1" will be on store shelves on October 23 for $49.99.