Warner is serving up Smallville: Season 6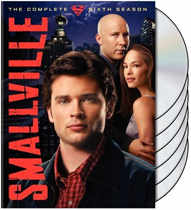 Warner Home Video has announced the release of Smallville: The Complete Sixth Season for September, once again bringing the show to DVD, HD-DVD and Blu-Ray Disc, as expected.
The DVD version will contain all episodes of the show's sixth season in a 6-disc DVD set. Coming as an anamorphic 1.78:1 widescreen transfer ,the show will also include a Dolby Digital 5.1 audio track. Four new Featurettes will be included on the release covering the show's production aspects. Also, you will find Deleted Scenes on the release.
The HD-DVD version of the release will feature a 1080p, VC-1 encoded video presentation of the series, complete with a Dolby Digital 5.1 Plus audio track. All the extras from the DVD version will be included on this 5-disc set as well.
The Blu-Ray disc version will come on only 4 discs, thanks to the increased storage space of the Blu-Ray format, and present the show also in 1080p high definition in a VC-1 encoded video stream. Audio will come as a 640kbs high bitrate Dolby Digital track, similar to the HD-DVD version, and the set will also include all the extras from the DVD version.
"Smallville: The Complete Sixth Season" will be in stores on September 18 with a $59.99 price tag for the DVD version and a $79.95 sticker price for the high definition versions.