Troy returns as a Director's Cut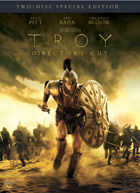 We have just received information that Warner Home Video will be releasing a Director's Cut of Wolfgang Petersen's Troy this fall on DVD, HD-DVD and Blu-Ray Disc. The Directors Cut adds 30 minutes of additional footage into the epic story of the mythological heroes.
Brad Pitt picks up a sword and brings a muscular, brooding presence to the role of Greek warrior Achilles in this spectacular retelling of The Iliad. Orlando Bloom and Diane Kruger play the legendary lovers who plunge the world into war, Eric Bana portrays the prince who dares to confront Achilles, and Peter O'Toole rules Troy as King Priam. Director Wolfgang Petersen recreates a long-ago world of bireme warships, clashing armies, the massive fortress city and the towering Trojan Horse.
The DVD version will come as a 2-disc set that features an anamorphic widescreen transfer of the film with 5.1 channel Dolby Digital audio. As extras there will be Troy Revisited, an Introduction by Wolfgang Petersen as he details the reasoning for his Director's Cut. A series of Featurettes will be included also, such as Troy In Focus, In The Thick Of Battle, From Ruins To Reality, Troy: An Effects Odyssey, Attacking Troy and Greek Ship Towing. The release will be rounded out by the movie's Theatrical Trailer.
The HD-DVD and Blu-Ray Disc versions have not yet received confirmed bonus materials but it is to be expected to be comparable to the DVD version, of course, plus with 1080o high definition video and improved audio tracks, of course.
The DVD version will carry a $20.97 suggested retail price when it finds its way to retail shelves on September 18, while the high definition versions will cost $34.99. A Collector's Edition DVD set will also be available for $39.92, including a souvenir booklet, and select pages from Petersen's shooting script.