Rory Gallagher plays up one more time on DVD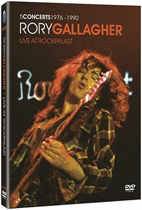 He may have passed away too soon in his life, but Irish guitarist Rory Gallagher sure knew how to fire up the fretboard and his audiences. His five Rockpalast concerts from 1976 – 1990 will now come to DVD this August as a 3-disc DVD box set from Eagle Vision.
Gallagher (1948-1995) scaled international heights of electric blues fame when he married hard rock to urban blues in the course of a brilliant career that tragically ended at age 47 from complications of liver surgery.
Starting with power trio "Taste" in 1969 London, his fetish for American blues artists like Buddy Guy, Freddie King, Albert King, Muddy Waters and John Lee Hooker turned into an obsession. Three "Taste" albums later, he ventured solo in 1971 to fully explore his blues fascination. Fourteen albums later, he was hailed as one of the finest living practitioners of the art form. He was so respected that two of his heroes, Muddy Waters and Albert King, asked him to record with them and he did on Waters' "The London Sessions" and King's "Live," where he proved himself an exemplary blues sideman.
Eagle Vision's three disc release shows Gallagher at the height of his artistic powers on a series of German television shows between 1976 and 1990, offering up over nine hours of concert footage.
"Rory Gallagher: Live At Rockpalast" will be in stores on August 7 for $39.99 to please all fans of exceptionally electric blues.