Meet the Robinsons on Blu-ray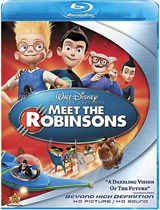 Disney's animated Meet the Robinsons is coming home, and it will be going to DVD and Blu-Ray Disc. The hope for future Disney animated releases remains high.
Aaprt from an all-digital transfer of the movie itself, both discs carry Deleted Scenes, a Commentary Track, Featurettes and a Music Video.
The Blu-Ray version comes in 1080p and PCM 5.1 and also contains a Set-Top Game and additional Deleted Scenes that are not found on the DVD version.
Both versions will arrive on October 23rd. The price for the DVD is set at $29.99 while the Blu-Ray Disc carries a $34.99 price tag.