Bram Stoker's Dracula gets even more beautiful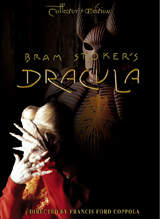 Francis Ford Coppola's masterful treatment of Bram Stoker's Dracula is currently on its way as a 2-disc DVD Special Edition and Blu-Ray Disc, courtesy of Sony Pictures Home Entertainment.
With this film Coppola returns to the original source of the Dracula myth, and from that gothic romance, he creates a modern masterpiece. Gary Oldman's metamorphosis as Dracula who grows from old to young, from man to beast is nothing short of amazing. Winona Ryder brings equal intensity to the role of a young beauty who becomes the object of Dracula's devastating desire. Anthony Hopkins co-stars as the famed doctor Van Helsing who dares to believe in Dracula, and then dares to confront him. Opulent, dazzling and utterly irresistible, for many this is the best Dracula ever to have graced the screen.
The DVD version will feature an anamorphic widescreen transfer of the movie, complemented by 5.1 channel Dolby Digital tracks.
The Blu-Ray version will feature the 1.85:1 widescreen presentation of the movie in a 1080p high definition transfer. The disc will contain an uncompressed 5.1 PCM track as well as a Dolby Digital 5.1 track in English, as well as uncompressed audio tracks in a vast variety of additional languages, including Russian, Czech, Hungarian, Polish and many others.
No extras have been announced for these releases but we are expecting great things for these releases, as it has been rumored and in production for many years. We will, of course, keep you posted as more details come in.
"Bram Stoker's Dracula" will be in stores on October 2 with a $24.96 sticker price for the DVD Collector's Edition and $28.95 for the Blu-Ray version.