A closer look at Anchor Bay's Blu-Ray titles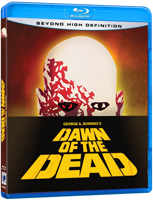 As announced a little while ago, Anchor Bay Entertainment is preparing a number of titles for the Blu-Ray Disc format for release in time for Halloween. We have been able to obtain cover artwork for some of these cool horror titles that will have fans salivating. Check ou the cover artwork for George A. romer's Dawn Of The Dead, Sam Raimi's The Evil Dead 2 and John Carpenter's Halloween and imagine seeing all these film in high definition shortly… yes, that's certainly something to look forward to!
Anchor Bay Entertainment has not yet announced full details and specs
on these releases but from what we've been hearing, expect DVD extras to carry over as well as uncompressed audio tracks on these movies. Since anchor Bay is well know for giving fans a treat, I think it is a safe best that these Blu-Ray Discs won't disappoint either. Stay tuned for more details.