30 years of Close Encounters merit a celebration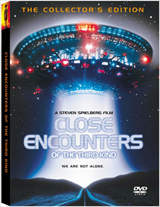 Sony Pictures Home Entertainment is celebrating the 30th Anniversary of Steven Spielberg's Close Encounters Of The Third Kind this fall with new releases of the movie on DVD and Blu-Ray Disc.
Electrical lineman Roy Neary (Richard Dreyfuss) is one of several people who experience a close encounter of the first kind, witnessing UFOs flying through the night sky. He is subsequently haunted by a mountain-like image and becomes obsessed with discovering what it represents, much to the dismay of his family. Meanwhile, government agents around the world have close encounters of the second kind, discovering physical evidence of extraterrestrial visitors in the form of lost fighter aircraft from World War II and a stranded military ship that disappeared decades earlier, only to suddenly reappear in the Sonora and Gobi Desert. Roy and the agents then follow the clues they have been given to reach a site where they will have a close encounter of the third kind: contact.
"Close Encounters of the Third Kind: 30thAnniversary Ultimate Edition" will come to DVD and high definition as multi-disc sets containing all three cuts of the film for the first time ever. See the 1977 original theatrical cut, the 1980 re-edited theatrical special edition and Spielberg's 1998 definitive Director's Cut on this release. Bonus material on the release includes a never-before-seen interview with Spielberg created specifically for this release, a retrospective documentary and other featurettes. The Blu-Ray version will contain even more extras, not found on DVD, such as all-new Storyboard-to-Scene Comparisons, the original 1977 "Watch The Skies" Featurette and an original Theatrical Preview.
"Close Encounters of the Third Kind: 30thAnniversary Ultimate Edition" will be available on November 13. The DVD version will carry a $39.95 sticker price, while the 2-disc Blu-Ray version will cost you $49.95.