We Are Marshall inspires home video in September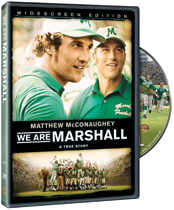 Warner Home Video has unveiled details about the upcoming release of We Are Marshall on DVD, HD-DVD and Blu-Ray Disc, scheduled for release in September.
Based on true events, "We Are Marshall" tells the inspiring story of how a small town in West Virginia, steeped in the rich tradition of college football, struggled to cope with a devastating loss and restore their community after one of the worst disasters in the history of American sports. On the evening of Saturday, November 14, 1970, a chartered jet carrying Marshall University's football team, coaches and fans, was on its way home from a hard-fought game in North Carolina. Less than a minute before its scheduled landing at Tri-State Airport, the plane crashed in the Appalachian Mountains, killing everyone aboard: 37 players, eight coaches and university staff, the flight crew, and 25 prominent Huntington citizens who had made the trip as they always did to cheer their "Thundering Herd." In the aftermath of this stunning tragedy, university president Dedmon (David Strathairn) prepared to suspend the school's football program for the season–perhaps indefinitely. Assistant coach Red Dawson (Matthew Fox), who narrowly missed the ill-fated flight, couldn't face going back onto the field. But in Huntington, Marshall football has always been more than a sport: it's a way of life. And this town would rally to save it. After some initial setbacks, they found hope and strength in the leadership of outsider Jack Lengyel (Matthew McConaughey), a young coach determined to rebuild Marshall's football program and, in the process, help to heal the community. Less than a year later, on September 18, 1971, Marshall University's brand new Thundering Herd was poised to stage one of the greatest comebacks in collegiate sports. A raw, youthful and inexperienced squad, patched together under the guidance of Lengyel and Dawson, they would defy overwhelming odds just to march onto the gridiron for the school's first game since the accident. That season, it didn't matter whether Marshall won or lost.
The DVD version will be sold for $28.98 in separate widescreen and fullframe versions, both with 5.1 channel Dolby Digital audio. For $39.99 you can own the HD-DVD version, which will come as a HD-DVD/DVD combo with a Dolby Digital Plus audio track, while the Blu-Ray version, priced at $34.99, will feature a single layer disc with Dolby Digital audio. As extras the release will contain a Featurette called "Legendary Coaches: How Coaches Overcome Adversity"" as well as the movie's Trailer.
"We Are Marshall" is scheduled for September 19 on all three formats.