The Teenage Mutant Ninja Turtles return in full glory in TMNT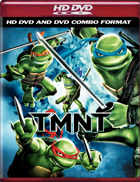 They may have been considered a flash in the pan in the 80s at one point or another but it seems these reptiles are here to stick around the 21st century as Warner Home Video is preparing the release of TMNT, the latest Teenage Mutant Ninja Turtles movie on DVD, HD-DVD and Blu-Ray Disc this August.
The Teenage Mutant Ninja Turtles return to the big screen as never before in an all-new CGI action adventure, written and directed by Kevin Munroe. After the defeat of their old arch nemesis, The Shredder, the Turtles have grown apart as a family. Struggling to keep them together, their rat sensei, Splinter (Mako), becomes worried when strange things begin to brew in New York City. Tech-industrialist Maximillian J. Winters (Patrick Stewart) is raising up an army of ancient monsters, and only one super-ninja fighting team can stop them – Leonardo (James Arnold Taylor), Michelangelo (Mikey Kelley), Donatello (Mitchell Whitfield) and Raphael (Nolan North)! With the help of old allies April O'Neil (Sarah Michelle Gellar) and Casey Jones (Chris Evans), the Turtles are in for the fight of their lives as they once again must face the mysterious Foot Clan, who have put their own ninja skills behind Winters' endeavors.
The DVD version of the movie will contain a 2.35:1 anamorphic widescreen transfer as well as a cropped fullframe version, complemented by 5.1 channel Dolby Digital audio tracks. It will carry a 28.98 sticker price.
The HD-DVD version will feature a 1080p VC-1 encoded escreen transfer with a lossless 5.1 channel PCM track as well as Dolby Digital Plus tracks in English, French and Spanish. It will be a HD-DVD/DVD combo disc containing the high definition version on one side of the disc and the regular DVD version on the other. A 39.99 pri9ce tag will accompany the release.
The Blu-Ray Disc version will greet viewers with a 1080p transfer and 5.1 channel Dolby Digital audio tracks in English, French and Spanish. In addition, the release will also contain a lossless Dolby Digital TrueHD track. The Blu-Ray version will carry a $34.99 price tag.
"TMNT" is scheduled for release on all three formats on August 7! No extras have been announced at this time.