Sony has a Vacancy in August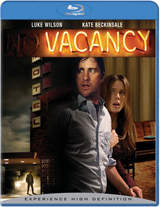 Sony Pictures Home Entertainment has just unveiled details about the release of the dark thriller Vacancy, scheduled for release on DVD, Blu-Ray Disc and UMD before the summer is over.
A suspenseful, classic thriller, in the tradition of Alfred Hitchcock, starring Luke Wilson and Kate Beckinsale, that will keep you on the edge of your seat and your heart pounding! When David (Luke Wilson) and Amy Fox's (Kate Beckinsale) car breaks down in the middle of nowhere, they are forced to spend the night at the only motel around, with only the TV to entertain them…until they discover that the low-budget slasher videos they find in their room were all filmed in the very room they're sitting in. With hidden cameras now aimed at them…trapping them in rooms, crawlspaces, underground tunnels…and filming their every move, David and Amy must struggle to get out alive before they end up the next victims on tape.
The DVD version will feature an anamorphic widescreen and a fullframe version of the movie with 5.1 channel Dolby Digital audio tracks in English and French. As extras the disc will contain an Alternate Opening Sequence and a Deleted Scene. You will also find the Featurette "Checking In: The Cast & Crew of Vacancy" on the disc together with Mason's Video Picks: Extended Snuff Films.
The Blu-Ray Disc version will offer up a 1080p high definition transfer, complemented by 5.1 channel audio in English and Parisienne French. Interestingly an uncompressed PCM audio track is also included – in French. The extras on this disc will be identical to those found on the DVD version.
The UMD version for PSP will contain a cropped widescreen version with stereo audio tracks and no extras.
"Vacancy" will be available on August 14 for $28.95. The Blu-Ray version will cost $38.96.