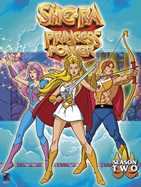 The animated adventures of He-Man and She-Ra were long requested on DVD and BCI Entertainment made the fans happy with some fantastic sets. Now the final volume of cartoons is arriving with She-Ra: Princess of Power Season 2.
On the war torn planet of Etheria, She-Ra and her magical allies in the Great Rebellion face their final struggles against the tyrannical Hordak and his Evil Horde. New warriors from the kingdom of Bright Moon appear to help stop the spread of oppressive villains making their debut in the Fright Zone. And in the battle against the malevolent forces of Horde Prime, where would She-Ra be without the occasional help from her brother, He-Man and his Eternian allies?
The set contains the final 28 episodes of She-Ra as well as a new documentary; The Story of She-Ra: Part 3, audio commentaries for She-Ra Makes a Promise and Sweet Bee's Home, an image gallery, Loo-Kee's Fun Facts, and DVD-ROM content including storyboards for an uncreated episode. Art cards are also included.
The set arrives on September 4th and will finally complete that spine artwork mural of the He-Man/She-Ra sets.