Immortal Beloved goes high def with poor audio options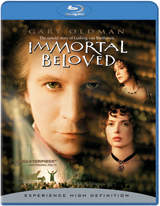 Sony Pictures Home Entertainment has announced a Blu-Ray Disc version of Immortal Beloved for release in August.
Gary Oldman, Jeroen Krabbe, Isabella Rossellini and Valeria Golino star in "Immortal Beloved," a mesmerizing mystery based on the tumultuous real life of Ludwig van Beethoven. Oldman gives a tour de force performance as the passionate, volatile genius who inspired love and hatred in equal measure. Whether seducing regal followers or criticizing the ruling class, Beethoven made many enemies. But he also had one true love, the unnamed "Immortal Beloved" mentioned in an enigmatic letter discovered upon his death. The thrilling search for the identity of this mystery woman leads us into Beethoven's dark past, his hidden passions, and, ultimately, into the unparalleled genius of his music.
The Blu-Ray version contains a 1080p widescreen transfer of the movie and complements it with Dolby Digital 5.1 audio tracks in English and French. No uncompressed audio track is included! I do not understand why Sony constantly short-shrifts some of its best movies, such as this one. Every ludicrous action flick is supplemented with uncompressed audio tracks by the studio but the movies where the audio presentation really counts are left with compressed Dolby Digital tracks. With this release Sony continues this trend of insensibility and disrespect for their films.
As sole extra you will find a Making-Of Featurette on the disc.
"Immortal Beloved" will be in stores on August 21 with a surprisingly low $28.98 sticker price.