Flashdance gets special treatment in September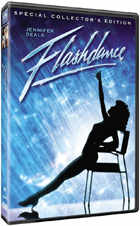 Fans of the 80s cult dance movie Flashdance will be excited to hear that Paramount Home Entertainment
is currently putting the final touches to a Special Edition DVD version of the movie, scheduled for release in September.
A hit movie that became a cultural sensation, Flashdance delivers an electrifying mix of music, drama and dance that dazzles the senses as it touches the heart. Jennifer Beals stars as Alex Owens, a fiercely determined 18-year-old with one all-consuming dream: to study at the Pittsburgh Conservatory of Dance. Working during the day as a welder and at night as an exotic dancer. Alex bravely pursues her dream, undertaking an unforgettable journey that reveals the power of her convictions and teaches her the meaning of love.
The DVD will feature an anamorphic widescreen transfer of the movie, complete with 5.1 channel Dolby Digital audio. As extras Paramount is dishing out a series of new featurettes, such as The History of the Flashdance, The Look of Flashdance, Flashdance: Music and Songs, Flashdance: The Choreography and Releasing the Flashdance Phenomenon. In addition you will find the movie's Teaser Trailer and the Theatrical Trailer on the disc, accompanied by the film's TV Spot.
The Flashdance: Special Collector's Edition can be yours on September 18 for only $19.99.