Disturbia is coming home in August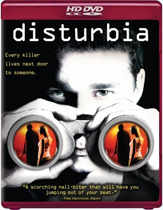 Dreamworks Home Entertainment and Paramount Home Entertainment have unveiled details about the August release of the thriller Disturbia on DVD, HD-DVD and Blu-Ray Disc.
After his father's accidental death, Kale (Shia LaBeouf) remains withdrawn and troubled. When he lashes out at a well-intentioned but insensitive teacher, he finds himself under a court-ordered house arrest. His mother (Carrie-Anne Moss) continues to cope, working extra shifts to support herself and her son, as she tries in vain to understand the changes in his personality. The walls of his house begin to close in on Kale as he takes chances to extend the boundaries both physical and emotional – of his confinement. His interests turn outside the windows of his suburban home toward those of his neighbors, including a mutual attraction to the new girl next door (Sarah Roemer). Together, they begin to suspect that another neighbor is a serial killer. Are their suspicions merely the product of Kale's cabin fever and vivid imagination? Or have they unwittingly stumbled across a crime that could cost them their lives?
The DVD version will come in separate widescreen and fullscreen versions, offering up a 5.1 Dolby Digital EX soundtrack as well as a Commentary Track by Shia LeBeouf, Sarah Roemer, and Director D.J. Caruso. Also included is a Trivia Track as well as some Featurettes such as "The Making of Disturbia," and "Hitchcock Flare." Deleted Scenes and Outtakes are also included along with the This World Fair Music Video for "Don't Make Me Wait", a Photo Gallery and the movie's Trailer.
The HD-DVD version will contain the same features but present the feature film itself in 1080p high definition with a 5.1 Dolby Digital Plus EX track.
The Blu-Ray version will also offer up a 1080p transfer and supplement it with a Dolby Digital EX audio track. All extras will be included in the Blu-Ray Disc version also.
"Disturbia" will be in stores on August 7 with a $29.99 suggested retail price for the DVD version and $39.99 for each of the high definition versions.