Universal lines up Streets Of Fire in high def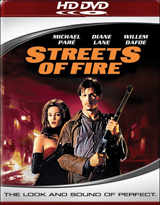 One of the most gripping street-action films from the 80s, Streets Of Fire is coming to HD-DVD, courtesy of Universal Home Entertainment. this summer.
Amid a brooding rock & roll landscape, the Bombers motorcycle gang, led by the vicious Raven Shaddock (Willem Dafoe), kidnap diva Ellen Aim (Diane Lane). Her hope for rescue lies with unlikely heroes: soldier of fortune Tom Cody (Michael Pare) and his sidekick, the two-fisted beer-guzzling, McCoy (Amy Madigan). Joined by Ellen's manager, Billy Fish (Rick Moranis), the trio plunges headfirst into a world of rain-splattered streets, hot cars, and deadly assassins.
This cult-hit features a razor-sharp cast and original songs written by Stevie Nicks, Tom Petty and Ry Cooder and performed by such greats as The Blasters and The Fixx. Streets of Fire is a rock & roll shotgun blast to the senses.
Universal offers up Walter Hill's movie in 1080p widescreen format with an improved 5.1 Channel Dolby Digital Plus audio track. Other than the movie's Trailer there won't be any bonus materials on this release when it hits your street on July 24 for $29.98.