The Black Snake Moan can be heard this summer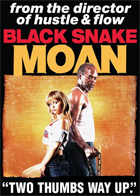 Paramount Home Entertainment has just announced details about the upcoming release of Black Snake Moan, the latest movie from "Hustle & Flow" director Craig Brewer.
When ex-blues musician Lazarus (Samuel L. Jackson) finds the town nymphomaniac Rae (Christina Ricci) left for dead on the side of the road, he vows to nurse her back to health… and cure her of her wickedness. Until then, she'll be chained to the immovable radiator in his home. But Lazarus has demons of his own: his wife just left him for his own brother. While Lazarus and Rae struggle to fix their broken lives, the situation threatens to explode as Rae's boyfriend Ronnie (Justin Timberlake) – a roughneck soldier just back from Iraq – comes searching for his missing lover.
The DVD will feature an anamorphic widescreen presentation of the movie with a 5.1 channel Dolby Digital audio track. As extras the disc will feature a Commentary Track by writer/director Craig Brewer as well as the Making Of Featurette "Conflicted."
Also included a the Featurettes "Rooted In The Blues" and "The Black Snake Moan". The disc is rounded out by Deleted Scenes.
The moan can be heard and seen on June 26 for $29.99 on DVD, HD-DVD and Blu-Ray versions will also be available for $39.99 on the same day.