Sony Pictures hires out The Contractor to you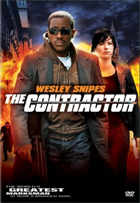 Sony Pictures Home Entertainment has just announced the upcoming DVD release of the Wesley Snipes action-thriller The Contractor for July.
"The Contractor" is a captivating action-thriller about a deadly assassin who finds himself on the run when an attempt to kill a terrorist mastermind in London goes terribly wrong. Retired marksman James Dial (Wesley Snipes) has been living a secluded life on his ranch in Montana but he is haunted by his failure to exterminate one of the world's most notorious terrorists. Dial is approached by his old employers to finish the job in London, where the terrorist leader has been captured and is under heavy protection. What would be a routine mission for the sniper turns into a nightmare as Dial is forced into hiding and relentlessly pursued by the British police and their lead investigator, Windsor. But when Dial is framed for Windsor's murder, he begins to realize that he has been seriously double-crossed. His only hope is a 12-year-old girl whom Dial reluctantly befriends as he desperately searches to find the killer and the truth behind his betrayal.
The DVD will feature a widescreen presentation of the movie with 5.1 channel Dolby Digital audio. As bonus materials you will find the Featurette "Inside The Contractor" and some trailers on the release.
"The Contractor" is scheduled to appear in your house on July 10 for a $24.96 fee.