Sam Raimi's Darkman makes a high definition appearance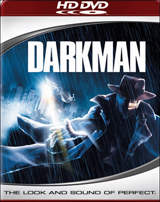 Universal Home Entertainment has added another title to their HD-DVD release line-up, scheduled for July – Sam Raimi's Darkman.
Dr. Peyton Westlake is on the verge of realizing a major breakthrough in synthetic skin when a gang, led by the sadistic Robert G. Durant obliterates his laboratory.
Burned beyond recognition and altered by an experimental medical procedure, Westlake attempts to rebuild his laboratory and reestablished ties with his former girlfriend Julie. But his most challenging task lies within himself.
Torn between his desire to create a new life with Julie and his quest for revenge, the man known as "Darkman" begins to assume alternate identities in this stunning, fast-paced action thriller from director Sam Raimi.
The HD-DVD version of the movie will offer up a 1080p widescreen version of the movie with a lossless Dolby Digital TrueHD audio track as well as a Dolby Digital Plus track. Sadly, the release seems to mimic the 1998 DVD release of the film, which means it will be devoid of any bonus materials.
"Darkman" has been scheduled for a July 31 release for $29.98.