Lionsgate finally releases Monster Squad this summer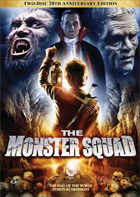 Fans of this film have waited forever for a decent version of the 1987 movie Monster Squad to come to DVD and finally Lionsgate has announced details about their 20th Anniversary Special Edition of the film to hit home video in July.
Count Dracula adjourns to Earth, accompanied by Frankenstein's Monster, the Wolfman, the Mummy, and the Gillman. The uglies are in search of a powerful amulet that will grant them power to rule the world. Our heroes – the Monster Squad are the only ones daring to stand in their way.
Coming as a 2-disc release, the DVD will offer up a new anamorphic widescreen transfer of the movie restoring its original 2.35:1 widescreen aspect ratio, combined with a newly remixed 5.1 channel Dolby Digital audio track. The release will contain a number of extras, including two separate Commentary Tracks featuring cast and crew members as well as a number of Featurettes remembering the making of the movie. A selection of Deleted Scenes will also be included as well as a Reunion Featurette from a recent convention. You will also find a Photo Gallery on the release as well as Trailers and TV Spots.
"Monster Squad" will be in stores on July 24 with a $19.98 sticker price.