HBO announces the second season of Rome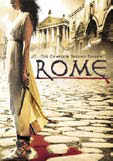 Eagerly awaited by fans around the country, HBO Home Entertainment has finally put a release date on the second season of their sensational, historic drama series, Rome.
After Julius Caesar's death, the second season focuses on the clash between Octavian – who will later become known as Augustus Caesar – and Mark Anthony over over who shall lead the Roman Empire following the assassination of Julius Caesar. The series once again follows the life-and-death exploits of Titus Pullo
(Ray Stevenson) and his friend and ally, Lucius Vorenus (Kevin McKidd) during these turbulent times that were most significant in Roman history.
The DVD set will contain Commentary Tracks on selected episodes, as well as numerous Behind-the-scenes Featurettes.
Rome: Season Two" has been scheduled for release on August 14 for $99.98. Of course every high definition fan prays at this point that the studio will also release a HD-DVD and Blu-Ray version of this release.