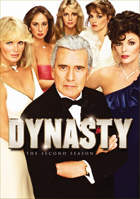 Paramount Home Entertainment has just announced a DVD set featuring Dynasty: The Second Season, scheduled for release in August.
This hugely popular prime-time soap opera follows the exploits of the Carringtons and Colbys, both "oilrich" family dynasties in Denver, CO, as they accrue and manipulate power and wealth.
This 6-disc DVD set will contain all 22 season 2 episodes that explore the conflicts, passions, drives and tensions of the super-rich and spoiled in their original fullframe format. As an extra the release will contain a Dynasty Season 2 Family Tree
"Dynasty: Season 2" will be n stores on August 14 and can be yours to own for $49.99.