The Fountain makes its home video debut in May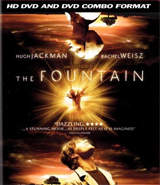 Warner Home Video has just unveiled their plans to release The Fountain on DVD, HD-DVD and Blu-Ray in May.
Yesterday, today, tomorrow. Past, present, future. Through time and space, one man embarks on a bold 1000-year odyssey to defeat humankind's most indomitable foe: Death. Hugh Jackman plays that man, devoted to one woman (Rachel Weisz) and determined to protect her from forces that threaten her existence. His quest leads him to a Tree of Life… and to an adventure into eternity. Darren Aronofsky (Pi, Requiem for a Dream) directs, continuing his string of imaginative, involving filmmaking with a tale alive with ideas and filled with astonishing vistas.
The film will be sold separately as a fullframe and a widescreen DVD version, featuring an anamorphic widescreen transfer of the film with 5.1 channel Dolby Digital audio in English and French. As extras the disc will contain the Multi-Part Featurette "Inside The Fountain: Death and Rebirth" covering the the movie's various periods and settings.
In high definition we will see a HD-DVD/DVD Combo version of the film with the same extras and an improved Dolby Digital Plus audio track. Like the HD-DVD version, the Blu-Ray Disc will feature a 1080p high definition transfer of the movie but will be limited to a standard Dolby Digital audio track. The disc will also contain the multi-part featurette.
"The Fountain" will be available to buy on May 15 for $27.95 on DVD, $39.99 on HD-DVD and $34.98 on Blu-Ray.