Reno 911!: Miami: The Movie hits DVD this summer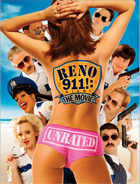 To complement the summer heat, 20th Century Fox Home Entertainment will release two DVD versions of the feature film Reno 911!: Miami: The Movie in June.
Based on the successful Comedy Central TV series, the movie centers on a rag-tag team of Reno cops that are called in to save the day after a terrorist attack disrupts a national police convention in Miami Beach during spring break. They're not the best, but that's all we got.
20th Century Fox Home Entertainment will release the original R-Rated version of the movie as well as an Unrated cut separate DVDS.
The R-Rated version will contain an anamorphic widescreen and a fullscreen transfer of the movie on the same disc and be supplemented by a Commentary Track with director/writer Ben Garant and writers Thomas Lennon and Kerri Kenny-Silver. It will also contain an Alternate Ending and Extended footage, both with optional commentary. To round out the release you will find the Fox Movie Channel Featurette "Making A Spoof" on the disc also, together with the movie's Trailer.
The Unrated version will offer up a number of additional supplements. Apart from containing only a widescreen transfer, the DVD will contain all the extras found on the R-Rated version. In addition, however, you will find a Second Commentary Track on the release, featuring Deputy Garcia, Deputy Johnson, Deputy Jones, and Deputy Kimball, and you will also find a Third Commentary Track on this disc, offering up the insights of Lt. Dangle, Deputy Junior, Deputy Wiegel, and Deputy Williams.
But that's not all. This version of the movie will also come with Four Public Service Announcements
"Reno 911!: Miami: The Movie" will be in stores on June 19 and carry a $29.98 sticker price. No Blu-Ray version has been announced.