Norbit is taking on DVD and Blu-Ray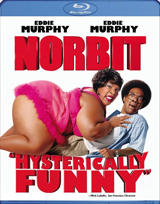 Dreamworks Home Entertainment is currently preparing the home video release of Eddie Murphy's latest comedy, Norbit for June.
It's Eddie Murphy "as you love to see him!" in this gut-bustingly funny movie that displays his comedic genius in multiple roles! Murphy stars as mild-mannered Norbit, who gets a second chance at love with his childhood sweetheart, Kate (Thandie Newton, The Pursuit of Happyness). But there's one huge obstacle: jealous, mean-tempered Rasputia (Eddie Murphy), who wants Norbit all to her sizeable self. Can Norbit win the heart of Kate… before Rasputia puts the hurt on him?
"Norbit" will come to DVD in separate widescreen and fullscreen versions with Dolby Digital 5.1 audio tracks in English, French and Spanish. The Blu-Ray version will offer up the identically 5.1 Dolby Digital audio tracks, complemented by a 1080p high definition transfer. Sadly it appears the release will be devoid of any extras as the release announcement for neither format indicates any supplemental materials.
"Norbit" will be in stores on June 7 and can be yours for a hefty $39.99 on Blu-ray or $29.99 on DVD.