Music And Lyrics comes home in June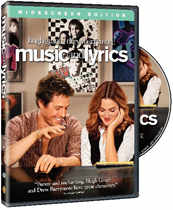 Warner Home Video has unveiled details about their upcoming romtantic comedy Music And Lyrics starring Hugh Grant and Drew Barrymore, to be released on DVD, HD-DVD and Blu-Ray Disc.
First you're hot, then you're not… and then you're Alex Fletcher. So when the sizzlingest tween queen on the charts asks the has-been '80s pop sensation to write her a song, he grabs for another chance at stardom. Problem: Alex can say it with music, but he sure can't say it with words. Enter Sophie Fisher, his beguiling if quirky plant lady, who has an unexpected green thumb for lyrics. Together, they go after songwriting success – and discover that if you want to write the perfect love song, it helps to fall in love.
The DVD version of the release will come separately as widescreen and fullscreen releases complete with Additional Scenes, Gag Reel and the Featurette "Note For Note" taking you behind the scenes of the making of the movie. The Music Video "Pop! Goes My Heart" will round out the disc.
The HD-DVD version will comes as a HD-DVD/DVD combo disc that offers up a 1080p transfer of the film complemented by 5.1 Dolby Digital audio tracks. All the extras from the DVD version will be carried over onto this version.
The Blu-Ray version will also include the same set of extras, complete with a 1080p video transfer.
"Music And Lyrics" will be in stores on June 6 and will cost you $29.99 on DVD, $39.99 on HD-DVD and $34.99 on Blu-Ray.