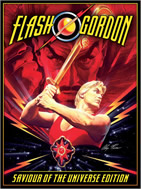 Flash Gordon, the trippy Queen music filled action fest, is getting a decent DVD release with Flash Gordon: Saviour of the Universe Edition coming from Universal later this year.
Flash is a football hero who is skyjacked aboard Dr. Zarkov's rocketship along with beautiful Dale Arden. The threesome are drawn into the influence of the planet Mongo, controlled by Ming the Merciless. Ming has been testing the Earth with unnatural disasters, and deeming it a threat to his rule, he plans to destroy it. He also intends to take Dale as his concubine. Flash must avoid the amorous attentions of Ming's daughter and unite the warring kingdoms of Mongo to rescue Dale and save our world.
Universal's being mum about extras on this labeled edition, but it will likely be a treat. Arriving on August 7th, the DVD will retail for $26.98.