Captain's Log Supplemental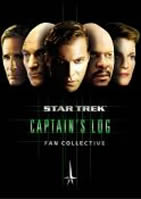 Kirk, Picard, Sisko, Janeway and Archer are together in the latest Fan Collective set from the Star Trek archives over at Paramount Home Entertainment. Star Trek: Captain's Log will carry episodes from all five captains in one set.
The fans and captains have spoken! Not only have Star Trek fans voted online for their all-time favorite captain episodes from all five Star Trek series, but each show's legendary leader Captain Kirk, Patrick Stewart, Avery Brooks, Kate Mulgrew, and Scott Bakula has carefully chosen their favorite episode, which resulted in Star Trek: Fan Collective Captain's Log.
Apparently Captain Kirk plays himself while the other captains are played by fine actors. In any case, the special features on these sets are typically sparse. But haven't been announced yet. Clocking in just 11 seconds short of 13 hours. There's plenty of Trek in this set.
The box arrives on July 24th.