Universal readies Dragonheart in high definition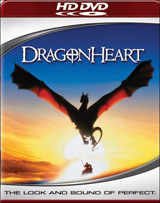 Universal Home Entertainment is currently preparing a number of new titles for release on HD-DVD. Interestingly, many of these titles were also titles the studio released during the initial days of DVD, making this an almost nostalgic line-up in May. One of the highlight titles scheduled is the fantasy tale, Dragonheart.
Long ago, when majestic fire-breathers soared through the skies, there lived a knight who would come face-to-face and heart-to-heart with the most remarkable creature that ever existed. Dennis Quaid stars with the voice of Sean Connery in this heroic adventure that blazes with fantasy and humor!
The release features a widescreen version of the movie in 1080p, of course, complemented by a Dolby Digital Plus audio track in English as well as a French Dolby Stereo track.
In terms of extras no exact details have been unveiled but one can certainly expect to see the bonus materials from the original DVD version duplicated here, namely the original "Making Of" Documentary, the Behind-The Scenes Footage and Special Effects Featurette as well as the Cast & Crew Interviews.
Look for "Dragonheart" in stores on May 29 with a $29.98 suggested retail price.