The Matrix enters the high def arena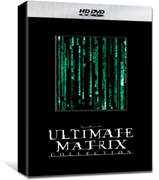 According to an article in industry magazine Home Media Magazine, Warner Home Video is preparing the release of the Matrix Trilogy for release in high definition.
Scheduled for release on May 22 the films will come to HD-DVD first in two incarnations. Called The Ultimate Matrix Collection and The Complete Matrix Trilogy the HD-DVD sets will include 1080p high definition versions of "The Matrix," "The Matrix Reloaded" and "The Matrix Revolutions" complete with over 35 hours (!) worth of bonus materials. The release will feature HD-DVD's In-Movie Experience so that bonus materials can be viewed while the film is running.
"The Ultimate Matrix Collection" will cost 119.99, while "The Complete Matrix Trilogy" will carry a $99.99 sticker price. A Blu-Ray version will follow later in the year.
While I personally have absolutely no use for this release I know that many of you will be eagerly awaiting this release. In fact, I am sure this release will help propel high definition formats forward getting a number of people off the fence and buying into the high definition train.