The Good German arrives in May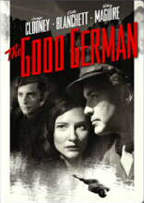 Steven Soderbergh's The Good German is making its way to home video courtesy of Warner Home Video.
Who knows what American journalist Jake Geismer (George Clooney) expected to find in postwar Berlin? Peace, maybe. Or at least a story. But certainly not Lena (Cate Blanchett), his beautiful, embittered one-time love. And not the trail of secrecy and deception that leads from Lena to the scheming young corporal (Tobey Maguire) who's her new lover…and to a murder no one seems interested in solving. Except Jake. Steven Soderbergh directs three of today's top talents in this zigzag thriller that's both an atmospheric homage to 1940s filmmaking and a deft modern film noir.
Shot entirely in black and white the DVD version will contain a presentation of the movie in its original 1.66:1 aspect ratio, complete with Dolby Digital 5.1 audio tracks in English, French and Spanish. No extras have been announced for this release at this time and interestingly, so far no high definition versions have been announced either.
"The Good German" is scheduled for release on May 22 with a $27.95 suggested retail price.