John Landis brings home Family in April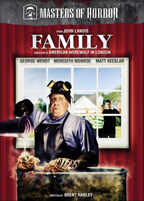 Anchor Bay Entertainment has scheduled the release of the next Masters Of Horror release for April. Taken from the second season of the horror show, John Landis' Family will make its DVD debut next.
It's a beautiful day in suburbia where mild-mannered bachelor Harold Thompson (George Wendt of "Cheers") is happily at work in his basement building the perfect family. But when a young couple moves in next door Harold sets his sights on the sexy young wife (Meredith Monroe). In a sunshine world of picket fences and manicured lawns, is it ever possible to know what gruesome plans are percolating in the minds of your neighbors? Matt Keeslar co-stars in this grisly black comedy with a killer twist from cult director John Landis.
Offering up the film in its original 1.78:1 widescreen version on this DVD, the release will also contain a number of great extras, of course, starting with a Commentary Track by writer Brent Hanley. Also included as the Making Of Featurette "Skin And Bones" as well as the Featurette "Terror Tracks: Mastering the Family Score". A Still Gallery will be included also, together with Original Storyboards and a Director Biography. The release is rounded out by the episode's Screenplay.
"The Masters Of Horror: Family" will come to a store near you on April 17 and can be yours for a family-friendly $14.98.