Full details on Dreamgirls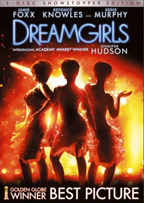 Dreamgirls is coming from Paramount Home Entertainment and we've been able to dig up the full details on this exciting release which makes its home video debut as a triple whammy in May as a DVD, HD-DVD and Blu-Ray version.
Director Bill Condon brings Tom Eyen's Tony award-winning Broadway musical to the big screen in a tale of dreams, stardom, and the high cost of success in the cutthroat recording industry. The time is the 1960s, and singers Effie (Jennifer Hudson), Lorrell (Anika Noni Rose), and Deena (Beyoncé Knowles) are about to find out just what it's like to have their wildest dreams come true. Discovered at a local talent show by ambitious manager Curtis Taylor Jr. (Jamie Foxx), the trio known as "the Dreamettes" is soon offered the once-in-a-lifetime opportunity of opening for popular singer James "Thunder" Early (Eddie Murphy). Subsequently molded into an unstoppable hit machine by Taylor and propelled into the spotlight as "the Dreams," the girls quickly find their bid for the big time taking priority over personal friendship as Taylor edges out the ultra-talented Effie so that the more beautiful Deena can become the face of the group. Now, as the crossover act continues to dominate the airwaves, the small-town girls with big-city dreams slowly begin to realize that the true cost of fame may be higher than any of them ever anticipated.
The movie's HD-DVD and Blu-ray versions will both come as 2-Disc Special Editions in 1080p with Dolby Digital Plus language tracks in English, French and Spanish.
On these 2-disc editions you will find Alternate Scenes in high definition along with the Listen music video. The second disc includes a 9-Part Documentary and 4 Featurettes all in 1080p high definition, along with Screen Tests and Previsualization Sequences.
For DVD owners there will be 3 versions to select from. Fullscreen and Widescreen versions, sold separately, are there, containing no mentionable extras. But there will also be a 2-disc Special Edition DVD containing all the extras found on the high defintion counterparts – though in stadard definition, of course.
All releases will be in stores on May 1. The single-disc DVD versions will carry a $29.98 price tag, while the 2-disc versions will set you back $39.99 on DVD, HD-DVD or Blu-Ray, respectively.