Beauty And The Beast enters season 2 this summer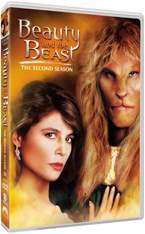 Paramount Home Entertainment has just announced details about the upcoming release of Beauty And The Beast: The Complete Second Season, scheduled for July.
The "Beauty And The Beast" TV show was a fantasy series about Vincent (Ron Perlman), a man-beast and his love for a beautiful assistant district attorney, Catherine Chandler (Linda Hamilton). Vincent lived in an underground world beneath New York City where his gruesome looks were less important to his peers than were his caring and benevolent personality. Together, Vincent and Catherine had many adventures both above and below ground level and their love for each other continued to grow.
The 6-disc DVD set will contain all of the season 2 episodes in their original fullframe aspect ratio with the original Dolby Stereo audio track but without any extras. The set is scheduled for release July 10 with a $49.99 price tag.