Universal puts Columbo on the case once again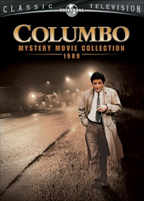 In April, Universal Home Entertainment will release another 3-disc box set featuring the trenchcoat detective, called Columbo: Mystery Movie Collection 1989.
Legendary actor Peter Falk returns in his 4-time Primetime Emmy® award-winning role as everyone's favorite trenchcoat-wearing Police Lieutenant in "Columbo: Mystery Movie Collection 1989!" Once again he will ask all the right questions in some of the most deceptive and deadly cases. Five episodes are included on the release, including Columbo goes to the Guillotine, a somewhat bloody episode involving magicians and an apparent suicide, Murder Smoke And Shadows an episode taking place on the grounds of Universal Studios with the prime suspect being a film director. The there is Sex and The Married Detective a murder case about a sex therapist that may perhaps be too racey for some and Grand Deceptions a military-themed episode featuring the 5 stars on the wine glasses. The last episode on the DVD set is Murder: A Self Portrait about an artist and live-in model.
The "Columbo: Mystery Movie Collection 1989" will be in stores on April 24 and can be yours for $26.98.